Issue #49 / August 2010
StreetLife
#49 / August 2010
The monthly e-newsletter of the LivableStreets Alliance
Last month we celebrated our 5 year anniversary. Next month is our 50th StreetLife e-newsletter. We have 5 speakers at our StreetTalk tomorrow. And we were mentioned in the news over 5 times in the last two weeks!
So become a member for $50 or $5

/month

to support the next 5 years! Join/renew before August 31, and be entered to win a gift certificate to Ferris Wheels Bike shop and Four Burgers.
· Travels to Denmark, Sweden and the Netherlands THIS Wed, Aug 4, 7 pm >>>
Street Party
· Thanks, photos, and more!
LivableStreets in the News
· Better Bridges Campaign
· Board Member Chris Hart Sets New Standards for Accessibility on the MBTA
· Share the Road....Please?
· Green Line Extension Delayed until 2015
Announcements
· Rethinking parking
· Cycle tracks in Cambridge
· Musings on transportation, health and livable communities
· Car-free SomerStreets
StreetTalk
_______________________________________________________________
Stories from our Travels to Copenhagen, Sweden and The Netherlands

Wed, August 4, 7-9 PM
@ LivableStreets office, 100 Sidney Street, Cambridge, MA 02139 (map)
1,000 people from around the world gathered in Copenhagen in June for the Velo-City Global conference to learn, discuss and share best practices about urban street design and bicycling. The conference was held in the 'City of Cyclists' where almost 40% of people commute by bicycle every day! Come to the LivableStreets' StreetTalk to hear stories and see photos from the conference in Copenhagen, and travels around
Denmark, Netherlands, and Sweden by our own:
- City of Boston Transportation Planner Charlotte Fleetwood
- City of Cambridge Bicycle and Pedestrian Planner Cara Seiderman
- Northeastern University Engineering Professor Peter Furth
- MAPC Transportation Planner David Loutzenheiser and
- LivableStreets Alliance Director Jackie Douglas
Open to the public. Suggested $5-$10 donation suggested. Beer provided compliments of Harpoon Brewery!
Check out NYC Streetfilm about Copenhagen and the conference here >>>
Street Party
_______________________________________________________________
Thanks to all who sponsored, supported, and attended our 5th Anniversary Street Party on July 22!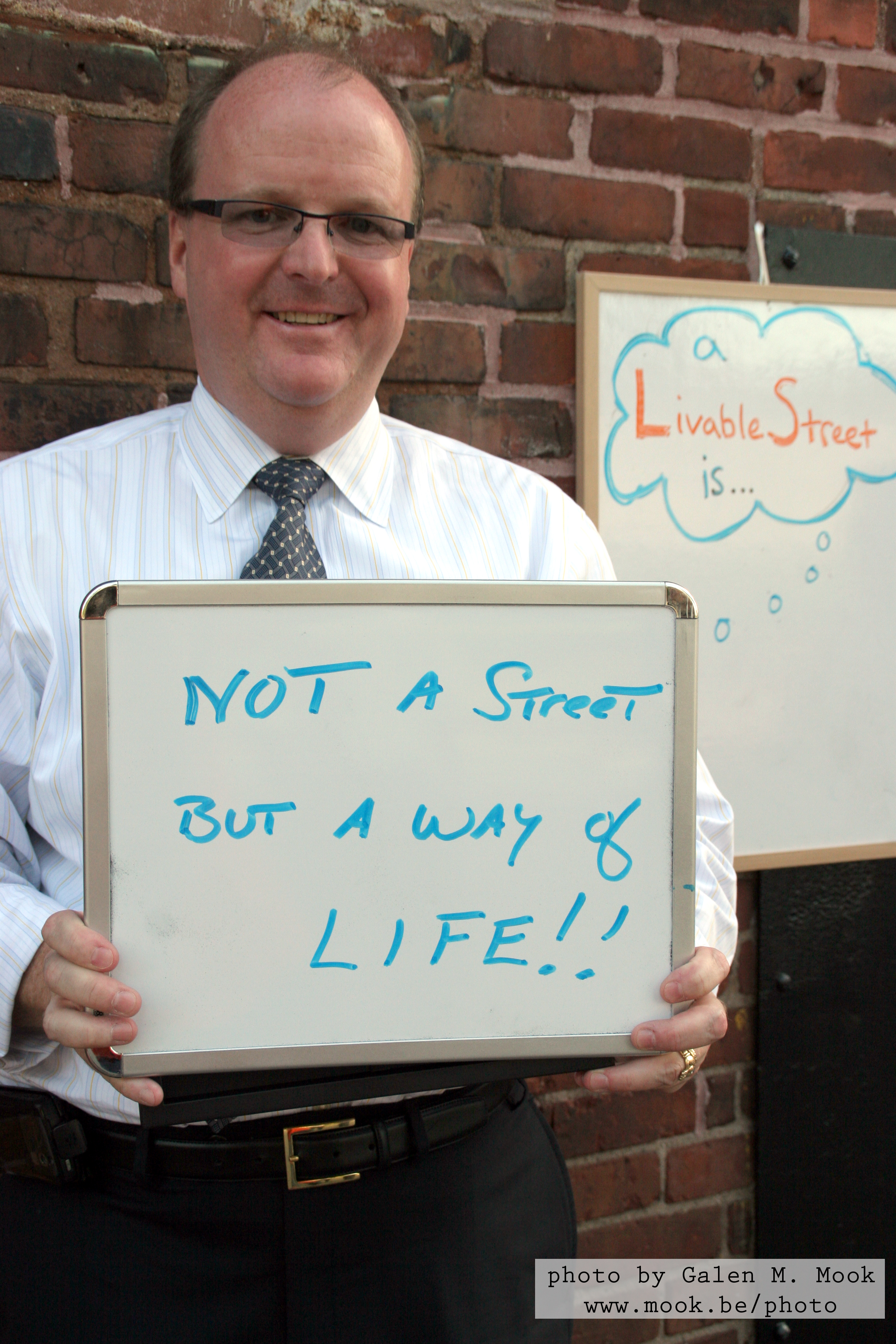 Boston Transportation Commissioner Thomas J. Tinlin and State Representation Marty Walz receiving Advocacy Awards
Enjoying Four Square on car-free Tudor Street Food and good company on LivableStreets patio

Check out more 5th Year Anniversary Street Party Flickr Photos here >>>

LivableStreets Street Party in the news:

>>

LivableStreets Alliance honors officials 'who get it' (Boston Globe)
"The LivableStreets Alliance last week celebrated its fifth anniversary of working to enhance city life through transportation improvements - a campaign that has brought together bike, pedestrian, and transit advocates; designers and planners; and citizens to work at the grass-roots and government level to promote roadways that offer something for everyone, not just drivers..." READ FULL ARTICLE HERE >>>

>>

Walz receives award from LivableStreets Alliance

(Cambridge Chronicle)

READ FULL ARTICLE HERE >>>

Thanks again to all our sponsors!


Harpoon Brewery Cambridge Bicycle Picante Taza Chocolate
Landry's Bicycles Hotel Veritas BoLoco Greenward
Clear Conscience Cafe Urban AdvenTours The Asgard B.Good
The Middle East

Electric City Cycles Four Burgers Craigie on Main


Ferris Wheels Somerville Theatre

Mariposa Baker

y Toscanini's
Trident Booksellers and Cafe

The Globe Corner Bookstore

Central Square Theater




Images are © copyrighted material of Steve Marsel Studio Inc.

For P.R. use and editorial use only.
LivableStreets in the News
_____________________________________________________________
Better Bridges Campaign press and film
"LivableStreets, a Cambridge-based group, began collecting scores of postcards in a "Better Bridges'' campaign, with locals writing messages to the state such as "I want Better Bridges because . . . getting across the Charles River should not be an extreme sport,'' "I walk, I ride a bike, I like the view, I'm human, I vote, I pay taxes,'' and "I can't swim.''..." (
Boston Globe, July 25
)
READ FULL ARTICLE HERE >>>
"...A group called the Livable-Streets Alliance has put forth a bolder alternative - closing one vehicle lane on each side of the bridge and vastly widening the space available to bicyclists and pedestrians.
The transportation department's highway division has convened a task force to discuss options. The LivableStreets proposal deserves a thorough vetting. Whatever its flaws, it opens up a whole new way of thinking about the bridge's future. The Charles River Esplanade is among the liveliest spots in Greater Boston, and extending that activity along the Longfellow would create a major urban amenity..." (
Boston Globe editorial, July 29
)
READ FULL ARTICLE HERE >>>
"Charlie Denison, a member of nonprofit group Livable Streets Alliance, said he's concerned about how the current proposal [on the Anderson Bridge] to narrow the sidewalks on each side of the bridge would affect pedestrians." (
Boston Globe, July 23
)
READ FULL ARTICLE HERE >>>
Watch a Better Bridges: The Stroller Fiasco Video
here by a LivableStreets volunteer
>>>
LivableStreets Board Member Chris Hart Sets New Standards for Accessibility on the MBTA
Two decades ago the Americans with Disabilities Act was passed to help reshape the nation's landscape by requiring public and private buildings and transport systems to become more accessible. Although it has been a slow process for the MBTA to accommodate such changes, the T should be recognized for the great strides they have made in pursuing this challenge. In part thanks to with LivableStreets' Board Member and ADA consultant Christopher Hart, who helped to draft a settlement between the MBTA and disabled riders group who sued the agency in 2003 because it was so inaccessible. Chris states that the T has made great advances in their accessibility services considering the size and scope that the MBTA takes on, but comments that they can and should take more leadership in improving other segments of service such as the Green Line, with 28 stations and surface stops still inaccessible.

MBTA General Manager Richard Davey credits the T's improvements to advocates such as Chris and remarks that "they have really woken the T up to accessibility... where it is no longer the exception...[but] the rule." New improvements can be seen in T elevators that are now rarely out of order, bus drivers that are required to pull up to the curb and digital message boards that are going up so deaf riders can get service announcements. While the T is continually working to improve service for all its users, and although there is much progress to be made, it is remarkable how much and far the T has improved in just a few years thanks to amazing advocates such as Chris.

"T moving in right direction on disabled access" (Boston Globe, July 27)
READ FULL ARTICLE HERE >>>
Share the Road...Please?


As more riders take up cycling and road space stays the same, the road turns into a constant battlefield where all users of the street are beginning to feel overcrowded and stressed. Cyclists are entitled their share of space on roads, so why can't we get along? Many blame these issues on the cyclists for intruding on roads that drivers are used to owning, and not sharing. LivableStreets' Board Member Steve Miller states that cyclists are often seen as the cause of the problem, but in the long run bikes will be part of the solution in issues surrounding health, environment, and urban transportation. Getting used to this change is hard for people to take in because of a fear of uncertainty and it means letting go of how things are. Change is slow, but it is happening. For now to ease the constant tension on the battlefield, it is encouraged to follow all the rules of the road, be a good citizen, and to share the road nicely. If all of us followed these rules we'd be a lot safer and much less stressed.
"On Biking: can't we all get along on our roads?" (Boston Globe, July 28)
READ FULL ARTICLE HERE >>>
Green Line Extension Delayed until 2015
The long awaited and highly anticipated Green Line extension to Somerville will be delayed again, until at least October 2015. The notorious cost, about $954 million, has once again set back the project that was planned to assist issues of urban mobility in the state's most densely populated city, Somerville. The state of Massachusetts is legally bound to finishing the Green Line by the end of 2014, because it is part of a list of nonautomobile improvements it pledged to offset environmental impacts of the Big Dig, comply with the federal Clean Air Act, and avoid a lawsuit from the Conservation Law Foundation. The set back will cause the state to come up with an air-quality-improving short-term alternative to this project to off set legal pressures, and ironically this hiatus will increase the price tag of the future project. One of the biggest concerns of advocates of greener transportation is that the state has not moved fast enough to balance transit and bike projects with highway construction, and that it remains hampered by the massive debt burden from the Big Dig and political wariness over new taxes for transportation. Although as LivableStreets' Board Member Steve Miller states, ""It is great that Secretary Mullan understands the vision and . . . is actually trying to move the direction of planning and implementation," many are still disappointed at the progress. As of now the state does not have the money in hand to build the project but is working on an application for the Federal Transit Administration's New Starts program, to win half the funds.
"Long-awaited Green Line extension to Somerville, Medford delayed again" (Boston Globe July 11)
Announcements
_____________________________________________________________
Cambridge City Councilors will soon vote on whether to raise the residential parking permit fees from $8 to $20 in 2011 and to $25 in 2013. LivableStreets is asking the City to reconsider how it manages parking to better support sustainable transportation initiatives.
Measures include:
-
Use parking fees to better manage parking supply
- Dedicate a portion of funds to support neighborhood improvements and sustainable transportation efforts.
This September people around the world will be rethinking parking and public space during Park(ing) Day. For more information, please contact
jackie@livablestreets.info
Cycle Tracks in Cambridge
The City of Cambridge is currently in the midst of a public process to redesign and reconstruct Western Ave between Mass Ave and Memorial Drive. The City is currently proposing five cross-section options for the project, all of which attempt to improve conditions for pedestrians and cyclists while still accommodating the necessary motor vehicle traffic. LivableStreets recently submitted comments about the proposed cross-sections in which we favored Concept 3, which includes a raised cycle track between the parking lane and the sidewalk, with a buffer of trees and street furniture between the cycle track and sidewalk. Due to questions about snow-plowing, we also supported Concept 2, which places the cycle track at street-level, between the parking lane and the sidewalk.
You can read more about the project, including viewing a detailed project booklet and submit your own comments, at the City of Cambridge's
website here >>>
Blog updates: transportation, health, and livable communities
Creating Change requires political will - a combination of grass-roots pushing and in-office leadership. It also requires using the tools of governance to effectively implement the desired changes. Recent blog entries explore specific steps that Massachusetts can take to put implementation muscle behind MassDOT's policies committing it to create the sustainable and healthy transportation system we need in the 21st century. And the "Three Legs..." posting argues that public support for transportation funding depends on the state's ability to describe and move towards that vision - a transportation system that increases the livability of our neighborhoods, the safety of our children, the quality of our air and water, and the prosperity of our local businesses.
- Creating Change Requires Muscle: Levers for Transforming Transportation in Massachusetts
>>>
Wouldn't it be great if all cities next summer 2011 can have car-free days that open up streets to people for walking, bicycling, roller bladding, fun and to support local businesses!
_____________________________________________________________
Thank you to our supporters and sponsors:
Urban AdvenTours (NEW!), Harpoon, Taza Chocolate, Regina Villa Associates
_____________________________________________________________________